How does re-mortgaging work?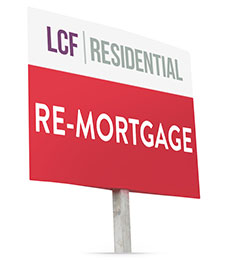 Re-mortgaging is different from a second mortgage. Re-mortgaging is where you pay off your existing mortgage and switch to another lender.
There are many good reasons why people consider re-mortgaging, but you need to consider the costs before you do. Re-mortgaging to pay off debt can sometimes end up costing you more than other options.
There are a number of things you need to be aware of with a re-mortgage:
If you already have a mortgage that you are paying off, you might pay exit fees.
You will have to undertake another survey for the new mortgage.
The bank or building society may offer you new services.
You will need a law firm for the Conveyancing and to pay legal fees.
LCF Residential can help with your re-mortgage, contact us and we will take you through the process and the cost of Conveyancing.
How much will it cost?
LCF Residential offer great value for money. Click here to Get an Instant Quote or call us today with some simple details about the property, and we'll give you a competitive price.
We look forward to helping you.
0345 is a local rate number, included in mobile plans.