Liam is sold on move to LCF Residential
Published: 25th February, 2021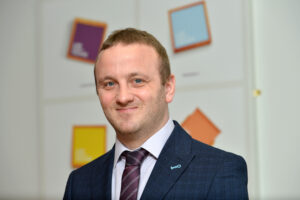 Experienced residential property conveyancer, Liam Gray, has joined LCF Residential.
Liam has worked in the legal industry since 2009 and has has specific knowledge of dealing with complex and high net worth residential conveyancing.
Liam who was previously a conveyancing manager with a Leeds-based law firm has nine years' specialist conveyancing experience on all aspects of  property transactions whether its freehold, leasehold or lease extensions. Liam is also on hand to advise you with right to buy, buy to let, shared ownership, transfer of equity, new builds and remortgages.
Liam said: "LCF Residential is highly recommended by its clients and gets excellent reviews across the board for its service levels. It has a great team led by an award-winning lawyer and I was keen to join such a successful firm that works for clients in Yorkshire, but also across the UK and overseas."
Head of residential property, Julie Davis, said: "Liam joins us as a senior conveyancing executive as our business continues to expand following a very busy time in the property market.
"We were impressed with Liam's dedication to his clients, the rapport he builds with them and his relationship management skills with referrers. Liam is also very good at managing teams and is very personable. He's a strategic thinker and has good contacts in the property market, and we feel that he will fit in well with our team of 25 at LCF Residential."
Find out how Liam can help you
LCF Residential works with home buyers and sellers, as well as estate agents and nearly every UK mortgage lender. The firm has offices in Leeds, Bradford, Harrogate and Ilkley.
---
At LCF Residential we've always believed that law should be simple, affordable and accessible. We understand conveyancing so you don't have to and from our offices in Leeds, Bradford, Harrogate & Ilkley we successfully help people buy, sell and re-mortgage their homes and properties all over the country.
Find out how we can help you – 03456 800 277